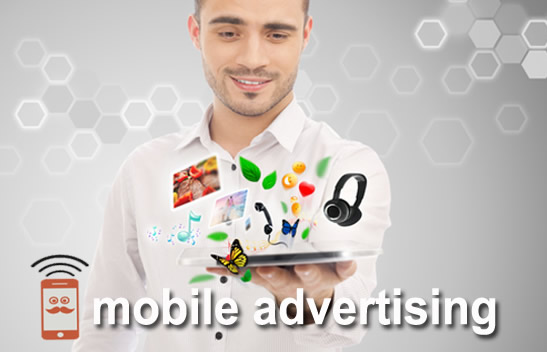 Mobile Phone Advertising is evolving every day.
Our Mobile Phone Advertising enables companies to advertise their products on mobile device world-wide.
Reach millions of targeted audience every day on the move, drive traffic to your website, maximize the performance of your advertising campaign & increase number of customers & revenue using our mobile internet advertising network.
Send your advertising material to Dataslices & we will create ad for you using any Ad creative format what ever best suits for you such as text link, graphic banner or graphic banner with text link.
Customize Ad by pointing it out to many different destinations & benefit various features of a mobile.
you can select from following actions:
Website Link:
Increase traffic to your website by creating specific landing page or pointing out to any existing mobile or other website when ever your ad is clicked.
Click-to-Call
Get more business leads by selecting click-to-Call action as user is already using phone & let users directly call you by clicking on your ad for any business inquiry.
iPhone & Android app store link
Increase numbers of downloads of your application by selection application store link.
Click-to-Audio
Let users listen about your products. It can be a podcasts or a music that will be played after clicking on your Ad. (Apple devices only)
Click-to-Video
Direct users to your rich video contents straight from your banner or text Ad. (Apple devices only)
Dataslices offers following features to its clients while compiling any campaign:
Targeting
You can enable from a list of advanced targeting options such as
Demographic
Location
Operator
Platform
Schedule
Devices
Language
Country
State or Region
Language
Network (WiFi, 3G)
Reporting
All of our campaigns are continuously monitored & we provide real time reporting showing number of impressions served, number of clicks received by your Ad & CTR (Click Trough Rate) as well. Our reporting & Analytic will show an image of your campaign that where your ads are more effective based on:
Carrier
Day timing
Platform
Region
Device
Mobile Application Promotion
Getting your application found & be downloaded is very difficult when there are millions of Applications on the App Store. Do you have made your dream mobile application ready? but coming to Sales/Downloads, its not moving further.
Are you facing the same issue ?
Be sure this will not happen with you.... 
Use our mobile application promotion plan before your application goes live.
We take following steps to promote your mobile application
Pre-launch promotion (Press release, Blogging)
Lite or demo version promotion (offer free download)
In-App Advertising
Submission of App review websites.
Social Media Marketing
Share using AddThis
Q&A Participation
Email Marketing
SMS Text Messaging campaigns
Youtube Promotion
Paid search Marketing
For more information on Mobile Application Promotion service please send email to [email protected]