Dataslices technical team has designed & developed more than 45 industry leading SMS products including SMS/MMS gateways, SMS/MMS Servers , MMS/ WAP Push Gateways, SMPP Gateways, USSD Servers and other messaging solutions for Telecom industry , businesses and government organizations. Dataslices is fully capable of providing any SMS solution from scratch as per client's brief / requirement.
What are you waiting for?
Customized SMS Server / SMS Gateway Facility With Great Features - 100% Results
Below is the list of major products offered by Dataslices:
| | | |
| --- | --- | --- |
| | | |
| | | SMS Panels for Govt organisations like e-Govt |
| | SMS Panels for Radio Stations | SMS Panels for Research institutes |
| SMS Desktop Server Apps/ Client Apps | SMS Panels for Disabled Persons | |
| | SMS Panels for Flood Monitoring | |
| | SMS Panels for Hurricane's alerts | SMS Mobile Parking system |
|   | SMS Plus ( ALL in one SMS Gateway/ SMS Server) | Outlook Plugins-Excel Plugins |
SMS Plus Message Server - SMS Gateway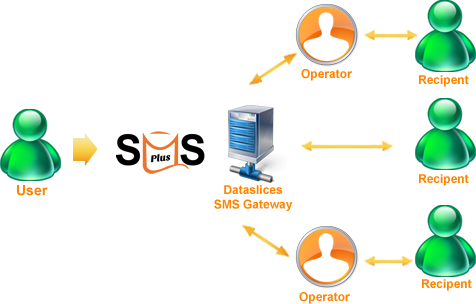 SMS Plus is a powerful and complete SMS gateway & text messaging solution that can easily be integrated into existing applications and IT infrastructure.
It has an easy-to-use user interface and an excellent internal architecture. The application uses IP message technology (SMPP, UCP or CIMD2) to transmit and receive the messages. SMS Plus Message Server works with all the operating systems.
SMS Plus enables organisations to provide two-way SMS messaging facilities to their personnel and corporate information systems using their existing messaging infrastructure and line of business applications. It provides out of the box integration with the most popular desktop email clients for all authorised users.
SMS Plus Gateway software works 24/7. It manages network link failures and SMS service provider failures with automatic reconnect capability, backup routing and fail-safe load balancing. Message loop protection is also included to avoid threats caused by auto responding mobile messaging services.
SMS Plus can be used as a bidirectional Email to SMS gateway, as an SQL to SMS gateway or as an HTTP SMS gateway. It also allows the user to have all of these functions at the same time. It is completely usable from many programming languages, such as C++, Java, PHP,ASP, Delphi and MS Access, to create automated SMS services.
Besides web based access, office users can use MS Outlook, MS Outlook Express and Microsoft Excel to send hundreds of messages to their clients.
SMS Plus Server is a perfect solution to serve the below requirements:
| | | |
| --- | --- | --- |
| | | |
| | | |
| | | System Monitoring Notifications |
SMS Plus comes with a variety of components such as:
| | | |
| --- | --- | --- |
| | Send SMS from SQL database | |
| | Send SMS using HTTP requests | |
| | | |
| | Send SMS with a command line tool | |
| | | |
General Features:
| | |
| --- | --- |
| Web UI - Easy to use, web based interface for administration, monitoring, customer care and reporting. | Audit - All system changes are logged in by user account, IP, time of day. |
| Monitoring - SNMP monitoring to easily connect to the operator's management console. | Batch processes - These tasks are useful in automation of periodic tasks as recycling MSISDNs, mass black lists additions, etc. |
| User accounts - Multiple user accounts per entity with optional LDAP integration. | SMS Throttling - For controlling the number of SMS per second allowed to any user account. |
| Profiles - User permission based on operator defined roles. | Reporting - Rich reporting tools available for the operator and service providers. |
SMS Plus Server - SMS GATEWAY Features:
Supports least cost routing with pattern matching to route messages to different SMS connections based on destination.

Supports Unicode (UTF-8) formats for both SMS and MMS messages, enabling deployment in multilingual environments.

Supports delivery report on SMPP/HTTP

Prefix based routing to various countries

Supports easy generation and delivery of WAP Push messages

Supports hundreds of messages per second in average workstation.

Supports 2-way SMS for interactive application development. SMS messages received by the gateway can trigger either an executable program to be run, or an HTTP request. Simple text responses back to the user can be returned as output of the request. More complex responses, including MMS or other binary SMS content, are also supported.

Log monitoring user friendly web interfaces.
Commercial features also added for monitoring accounting information.
Can be used to send operator logos, ringing tones.
Supports SMPP 3.4 / SMPP 3.5.
Can connect various http based content gateways.

Includes an SMPP server, simplifying the process of connecting multiple gateways and applications.

Support feature of adding multiple SMSC.
Can provide DLR on the SMPP port to the client.

Supports sending of other binary SMS formats, including EMS, ring tones, etc.

Support for 32bit and 64bit architectures.

Supports concatenated SMS for SMS text messages longer than 160 characters.

Support for dual core and multiprocessor systems.

100 simultaneously connected applications.

600+ concurrent SMSC connections.
Pricing Features:
| | | |
| --- | --- | --- |
| | Several tariffs can be assigned like postpaid or pre-paid | Charging policy enforcement |
| Service provider cannot charge outside the parameters set for the service | Simultaneous content and charging | Combined SMS content delivery and charging request in the same operation |
Subscription Management Features:
| | |
| --- | --- |
| Strict Service Definition - Each service can be uniquely identified, even though they may be tied to the same short number (e.g., Weather, Horoscope, Jokes, Love, News, Sports are related to the short number 2020) | Off-portal purchases and subscriptions - Subscriptions and On-demand purchases in service provider's Web/Wap portals are validated by user confirmation in operator's portal. |
| Multiple channel operation - Several channels (SMS, WAP, IVR, USSD, etc.) can be integrated to the platform to increase user options for subscription. They can also unsubscribed using the same channels or by calling a customer service rep. | Optional Double opt-in - to require a confirmation from the user prior subscription (e.g. user sends the service keyword; he/she receives a message asking him/her to confirm the subscription. Only after the user sends confirmation keyword, he/she is subscribed) |
| Terms of service enforcement - Only subscribed users can receive and be charged for content and only in the amount set by the terms of service. | Operator-controlled responses - Operator can write its own messages for terms of service and other key events (subscription, renewals, subscription cancellations, etc.). |
| Keyword matching - Flexible and powerful keyword matching capabilities improve subscription rates. It also supports content delivery policy enforcement | Subscription tools- The operator can easily mass subscribe or unsubscribe users to a service, when transferring current services, or when similar service to one already in production is to be launched. |
| On-demand and subscription content - Same short number can accept subscription and on-demand request for content. | Automatic unsubscribe Option - Users that have not been charged for in a while can automatically be unsubscribed. |
Broadcast Control Features:
| | |
| --- | --- |
| Complete broadcast control | |
| Respect the users who request to opt-out of unsolicited messages | Gives your trusted service providers a quota for promoting their services. You can still set the maximum allowed per user, per time unit and total number of SMS for a given period |
| | |
| Only allow broadcast messages during specific times of day and days of the week | Users who have requested to be black listed, can still opt-in to their desired services |
| From zero SPAM to a predefined amount of messages per user per time unit | |
System Monitoring Alerts:
With businesses and organisations heavily reliant on the uptime of data centres and IT systems, the IT manager, or team, need to be fully aware of any faults or interruptions to service. The systems, especially in mission critical ones, require constant monitoring and report capabilities 24 hours a day and 365 days a year.

When faults are detected, such as UPS alerts, mail server problems, irregular commas-room temperature or even a server drop off, they are usually assessed and prioritised. Faults that require immediate action are then notified to the relevant IT duty manager, who will make a decision on appropriate action.
SMS Alerts:
Monitoring systems, such as Ipswitch's WhatsUp Gold, Solarwinds' Orion NPM or CA Nimsoft Monitor, will utilise a number of methods of communicating these alerts to the IT manager, and one of the quickest and most reliable ways is via SMS.

SMS technology, such as SMS Plus, can be easily integrated into any monitoring solution, and enable the IT manager to receive instant automated messages whilst on call through the day or night. Automated alerts give instant notice of faults 24/7/365
Server Health Alert:
SMS Plus comes with Nagios based system monitoring tool which monitor server health status, the services, applications, databases and even external application APIs. If any service is interrupted the Nagios can raise desktop alarms (display & audio alarms), email/SMS alerts to the corresponding administrative staff.
Special Features:
Mission Critical Messaging

Failover at connection level

Threshold limit per connection not to flood the operator connection

Ms Communicator Add-in – Avail as an integral part in Excel/Outlook plugin

Public and Private Contact Group Management

Daily & monthly caps for the no of SMS permitted per user

Microsoft Outlook Web Application – WebTop GUI

Grouping and Sub-Grouping – Account hierarchy is available

Customizable Contact Fields

User, department & enterprise level access hierarchy with restriction for different functionalities and views

Outlook native indication icon for inbound SMSs with standard Outlook popup notification on SMS receipt

Supports Multiple Mobile no – it auto detects duplicate mob no in case of campaign created using multiple number lists.

Alternative path configuration not only available but also with operator delivery caps

Handle SMSs (reply, reply all, save, forward, use contact list) as same as with Emails

Hot code update (apply software patches) without service restart or interruption

Loosely coupled distributed cluster design
Remote Modems Deployment

Both send/receive messages on Outlook
Quick Messaging Functions

Database Synchronization with MS SQL/Oracle/Active Directory

Install only interested components & expand extra modules whenever needed

Composer preview with multiple message indication for long messages

Support Unicode characterization
Corporate Management

Modules can work as multiple instances (even at different physical sites) for redundancy, load balancing and failover management

Open interface to for integrating enterprise applications easily over SMPP, HTTP, HTTPS, Web services, DB integration

Auto Unsubscribe and Filtering – supports registration/de-registration using keyword based SMS to a configurable short code

Users and quota management

User configurable flexible inbound and outbound routing

Support message concatenation

Customizable multiple rate cards

Built-in user credit management

Operating Hours Restrictions for SMS delivery

Powerful Search and Filter Function

Service accessibility & restrictions at IP, VPN, DMZ level as per organization level security

HTTP based API to read stored messages in Inbox programmatically

Inbound message direct routing to external applications via HTTP, SMPP API

Desktop App – SMS plus WebTop let the uniform virtual desktop user experience in any working environment including Windows, Linux, Mac

System level, Enterprise level, user level message routing profile management enhanced at smpp connection level

direct DB integration, but also Application Programming Interface (API) in HTTP, HTTPS and SMPP for both sending & receiving SMSs

Capability to serve as operator SMSC & have the Sigtran/SS7 interface for sending/receiving SMSs

Live message delivery statistic graphs at system level & account level

Merged content delivery
Binary/picture/OTA message support though API

Scale to Manage High Volume/Mission Critical SMS with Batch Messaging support

Handling high speed inbound messages with extreme speeds of message receipt

Supports direct DB integration for MySQL, Oracle, MS SQL, Redis Databases

Ability to support over 1000 SMS/s in a single server

Supports Unicode Messaging and Long Messages

Periodic query based template message triggering

Hundreds of Message template

Organizations can deploy Workgroup using database auth or as Active Directory

Automated customized notification for received messages

End of broadcast alert to administrator (& also start of broadcast alert too)
SMS Plus Server Investment
To invest in a reliable SMS Plus server, we have two options for you, buy full package or just lease the server.
SMS Plus Server (SMS GATEWAY- SMS SERVER) – A Complete Package
SMS Plus SMS Gateway is an excellent software for those who want to provide SMS services. It can be used by independent SMS service providers (SMS Aggregators), Mobile network operators, SMS content providers and many more. The platform offers everything needed to setup and operate mobile messaging services efficiently.

To know more about buying the complete server, please send the detailed inquiry to [email protected] or visit SMS Plus website
SMS Plus Server (SMS SERVER) – Leasing
You can also lease the server to meet your short term requirement.
An SMS Plus hosted system delivers SMS Server functionality as a service to everyone without the need of maintaining difficult software and hardware. SMS servers are provided by SMS providers in order to connect and send your messages. What if you want also to offer SMS Server access to your clients? You can use your provider's reseller panel but you will be able to send only from that gateway. If you need to provide one account to your clients with multiple routing capabilities without the fear of exposing your provider to your client, then we have the perfect solution.
We offer a completely white label SMS server for your needs and you can add as many clients/resellers as you wish. Our services come with standard monthly fees without any extra costs for you. You can use your own providers without the need to buy SMS credits from us. You can buy SMS credits from X provider and we will provide you SMS Server access for your clients.
With managed SMS Server services, we offer to you all the equipment, software, operations facilities and technical expertise needed for a company to reap the benefits of a SMS gateway system, SMPP server and client connections without the costs, risks and headaches of running your own solution. A managed SMS service package includes everything that a company needs in order to start its online presence. Design, integration and deployment of equipment and software, along with management and maintenance of existing SMS solutions and network.
Managed SMS Server is designed for small and medium sized businesses with limited IT resources and a burning desire to leave the headaches and hassles to a third-party service provider's team of experts.
Key Business Advantages of Leasing
| | |
| --- | --- |
| Reduced server costs | Low up-front capital expenditures without any need to acquire expensive equipment and software. Plus, a managed service lets a company leverage its existing technologies alongside a new system |
| No maintenance/ support charges | Predictable operating expenses thanks to services that are contracted and based on monthly charges or fixed flat-rate billing. |
| Zero downtime | Since managed-SMS services feature a service-level agreement, companies can rest assured that a managed-SMS system will perform at peak levels in the face of security threats, business continuity and disaster recovery |
| No need to keep IT department | Round-the-clock access to experienced staff that can help deploy and manage a SMS gateway in accordance with a company's unique business needs |
| Seamless business solution | Faster time-to-market by allowing for a rapid SMS system migration in order to take advantage of market opportunities |
To know more, please send the detailed inquiry to [email protected] or visit SMS Plus website